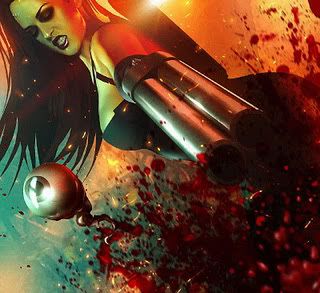 On October 11th artistic mastermind
Dennis Willman
reveals his newest creation,
Ginger-Stein
, to the world. Ginger-Stein is the title of a multimedia horror/sci-fi project that is written, created, and illustrated by Willman and is unlike anything the horror audience has ever seen.
Ginger-Stein: Rise of the Undead is the first in a set of six comic book mini-series featuring horror's hottest new heroine. The story and artwork are deeply rooted in 1980's horror and sci-fi nostalgia. The violence is over-the-top, and like any good 80's horror story, there's sex, drugs, and a breaking of all the rules of how to survive a horror film. All characters in the series are based on models, including notable names such as Leslie Easterbrook (The Devil's Rejects), Belinda Balaski (The Howling, Pirahna), Tiffany Shepis (The Frankenstein Syndrome), Sarah French, and Joe Knetter. Primary models Monique DuPree, Elske McCain, DeeDee Bigelow, Landyn Banx, Deneen Melody, Cari Thompson, Bianca Barnett, Cyndi Crotts and Bobby Ray Akers, Jr., make up just a portion of this eclectic cast.