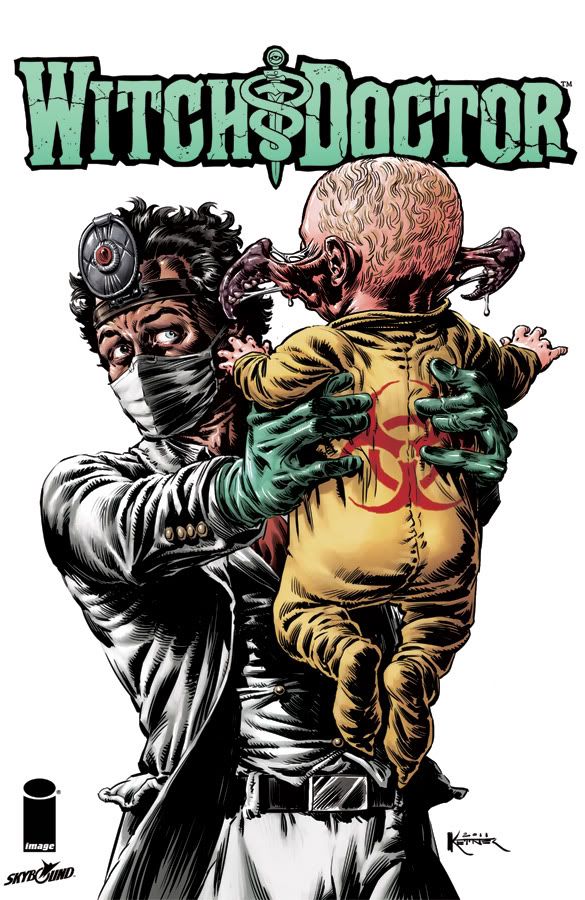 Witch Doctor #2 by Image Comics. Written by Brandon Seifert and Drawn by Lukas Ketner.
I'm sorry this cover is funny. I have seen guys give worse looks at a baby when it shits its pants, I can imagine the look anyone would give it if it looked this this, lol.
Oh my god this issue is hilarious and so many baby jokes that will make you laugh your ass off. How do you get a demon baby to drop its glamour? " Shake a baby! Shake it like a Polaroid picture! --of an Etch-a-sketch--and some Maracas!" And that is just from two panels.
These guys are hitting the mark like a bullet from a gun. It just gets better and better. The artwork brings eerie visuals to the creations of the demons and the writing is just fantastic, it keeps you reading and puts the humor in perfectly. They have also made it easier to read by explaining the more "doctor terms" in the story. I know this is just a four issue limited series, but I hope they make it a monthly because it is one of the better titles to come out in the comic world recently. This is a definite buy for any fan of the paranormal, horror, even metaphysical style of comic reading and collecting.
Follow @Anoriginaldick