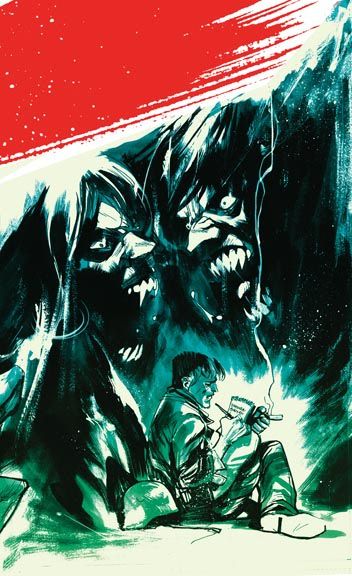 American Vampire #17 by Vertigo/DC Comics. Written by Scott Snyder. Drawn by Rafael Albuquerque. $2.99.
"All Right you ugly fuckers...now you made me mad!" Skinner Sweet.
Ghost War continues as the group breaks out of their cells and with Skinner in the lead, start killing anyone in their way. But almost all is lost when they are trapped and see no way out.
This issue is a blood bath. After waiting for Snyder to have Skinner cut loose, you get to see him ripping the Axis forces like a knife through butter. Rafael just brings on the pain as his visuals bring to life the race to escape and the gory blood bath that Skinner gives to any in their way.
When all but Henry seems to be dead, Skinner saves him so he can kill him himself only to be stopped by Pearl, who masqueraded as a nurse to get to the island.
The next issue will be a shit-kicker, since Skinner and Pearl will finally square off against each other, with Henry as the prize.
Follow @Anoriginaldick